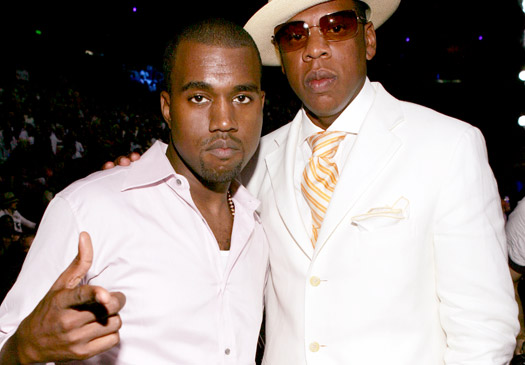 There is nothing quite like a good musical collaboration. When you see two prolific musicians jamming together, at the peak of their crafts, there is nothing quite like that in my mind. Whether it's Bob Dylan and Emmylou Harris teaming up for "
One More Cup of Coffee
," or Elton John and Eminem sharing the stage for "
Stan
" at the Grammy's, I eat it up. (For a random little aside, I will say that in my opinion, this collaboration is the best part of the Grammy's; they've really emphasized the collaboration between great musicians.)
We, as contemporary music fans, are spoiled with a generation of artists who appreciate the value of a good collaboration (see: Postal Service, Monsters of Folk, etc.). Perhaps the best example of this is the ongoing friendship between Jay-Z, one of, if not the best rapper of all time, and Kanye West, one of, if not the best, rap producers of all time. When they released Watch The Throne, everyone knew it would huge, and it was. Two musical giants, masters of their craft teaming up to make great music.
No punches were pulled in this album, especially in the song "New Day." That song brings out some fuckin' demons, there are no two ways about it. When Kanye drops "I might even make him be Republican/ so everybody know he love white people," you know that this song isn't shying away from anything. Rapping about politics, family, fame, and love, Jay-Z and Kanye leave everything out there for the world to see, and the results are magnificent. Enjoy a contemporary example of musical giants at the peak of their careers, laying everything out for the world to hear.